Description
The core components of NATURE ESSENCE COLLAGEN FOR YOUR BEAUTY include: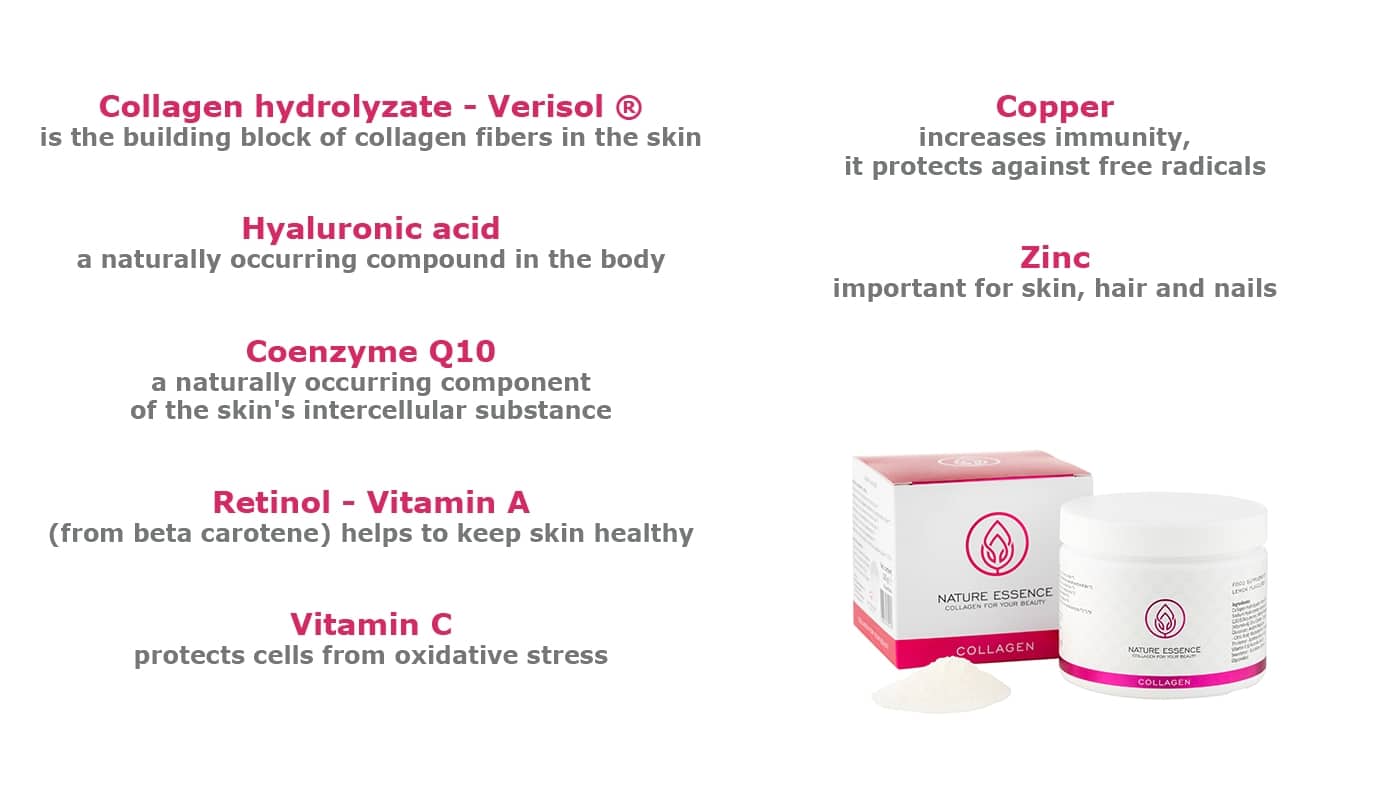 Collagen is a protein and constitutes up to 30% of protein in the body. With age, the body produces less and less collagen, therefore the skin loses elasticity and wrinkles appear. Used in COLLAGEN FOR YOUR BEAUTY Verisol® is a patented and tested collagen.
Noticeable reduction in skin tension and elasticity? The solution may be COLLAGEN FOR YOUR BEAUTY, which supplements the diet with ingredients necessary to maintain optimal skin condition. Properly selected ingredients help maintain healthy, smooth skin.
Active ingredients
Active ingredients
Amount per daily allowance
(1 portion 5g )
Verisol® – collagen hydrolyzate
2500,00 mg
Retinol (Vitamin A in the form of beta-carotene)
800,00 mg*
Vitamin C
80,00 mg*
Hyaluronic acid (in the form of sodium Hyaluronate)
20,00 mg
Coenzyme Q10
10,00 mg
Zinc
10,00 mg*
Copper
1,00 mg*
* 100% NRV – Nutrient Reference Value
Verisol® is a registered trademark of Gelita AG
Information
Recommended use:
1 serving daily (5g)
Usage:
Dissolve 5g of the product in 200ml of water. Eat best in the evening.
Warnings:
Do not use if the patient is allergic to any of the product's ingredients; during pregnancy and breastfeeding. Do not exceed the recommended daily dose. Dietary supplements should not be used as a substitute for a varied and well-balanced diet. A balanced diet and a healthy lifestyle are recommended.
Best before the end, party number:
Information on the packaging
Storage:
Store in a dry and cool place, out of reach of children. Protect against direct sunlight
Manufactured in the European Union