Female Libido Booster (30 capsules)
47.90 €
Out of stock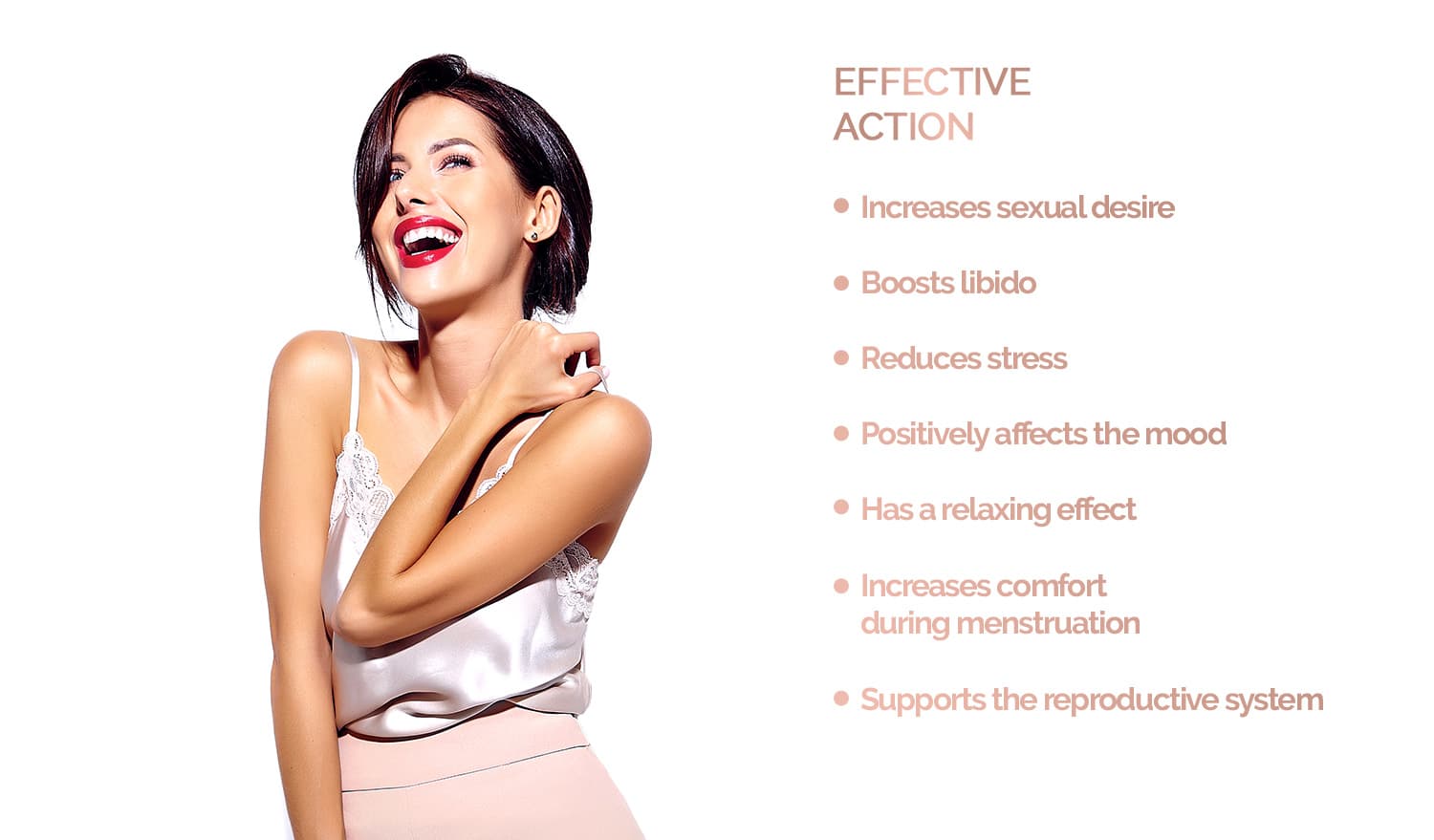 Get an alert when the product is in stock:
Description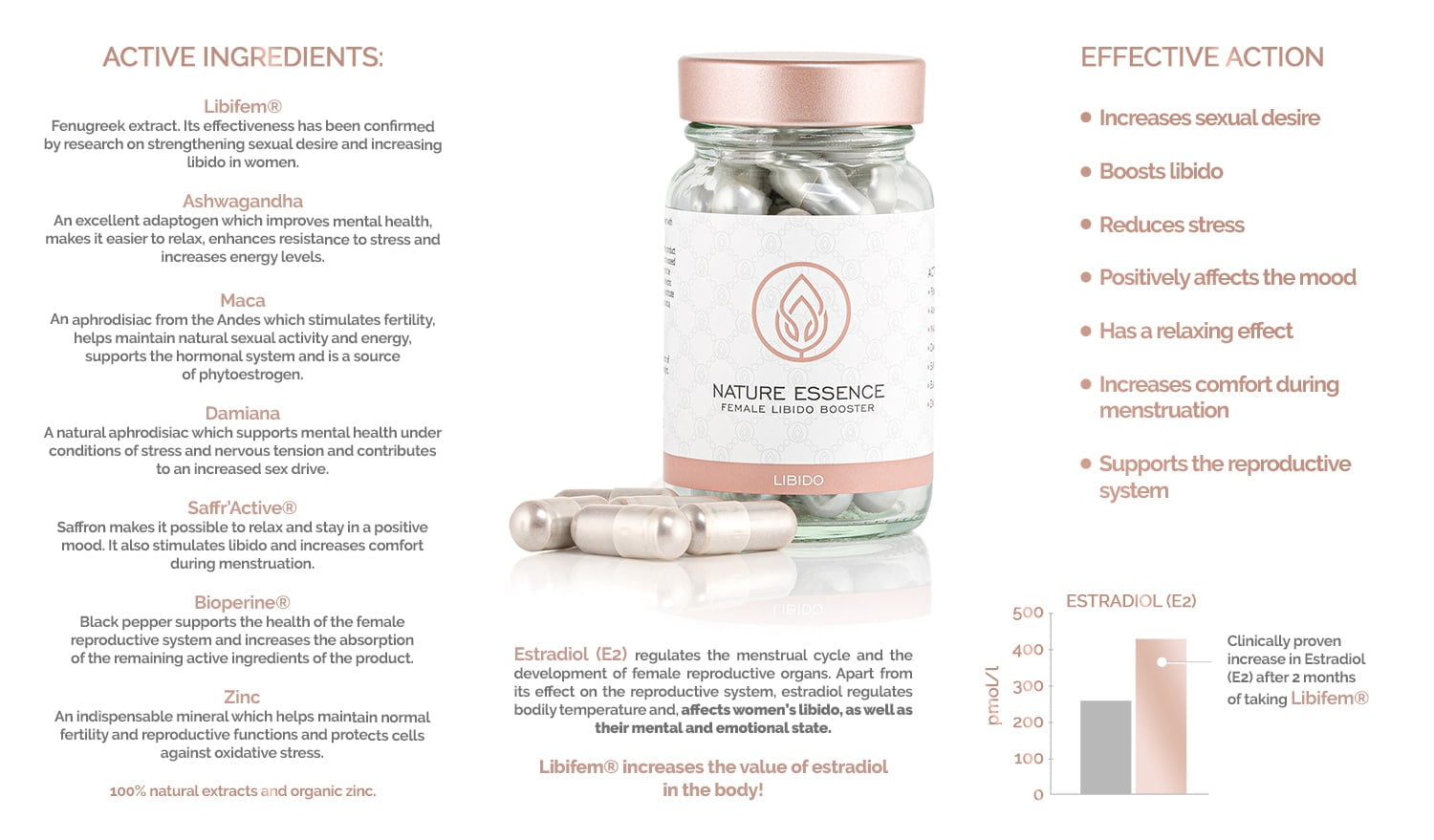 The most important ingredients of NATURE ESSENCE FEMALE LIBIDO BOOSTER are:
Libifem® – a branded fenugreek extract standardised to fenusides. Its effectiveness has been confirmed by research on strengthening sexual desire and increasing libido.
Ashwagandha – a high-quality extract standardised to contain 7% withanolides. Withania is an excellent adaptogen which improves mental health, makes it easier to relax, enhances resistance to stress and increases energy levels. It has a nutrition claim approved by EFSA (European Food Safety Authority).
Maca – an aphrodisiac from the Andes which stimulates fertility, helps maintain natural sexual activity and energy, supports the hormonal system and is a source of phytoestrogen.
Damiana – it supports mental health under conditions of stress and nervous tension and contributes to an increased sex drive.
Saffron – an extract standardised to safranal. Saffron makes it possible to relax and stay in a positive mood. It also stimulates libido and increases comfort during menstruation.
Bioperine® – a branded black pepper extract standardised to piperine. Black pepper supports the health of the female reproductive system and increases the absorption of the remaining active ingredients of the product.
Zinc – an indispensable mineral which helps maintain normal fertility and reproductive functions and protects cells against oxidative stress. It has a nutrition claim approved by EFSA (European Food Safety Authority).
FEMALE LIBIDO BOOSTER is a mix of carefully selected natural ingredients which directly contribute to an increase in women's libido. Daily supplementation with the fenugreek extract increases blood levels of free testosterone and estradiol, which leads to an increase in sexual desire. Ashwagandha root reduces disorders caused by stress, has a positive impact on the nervous and immune system, reduces fatigue and makes it possible to maintain a good mental and physical condition. Maca root stimulates fertility, helps maintain natural sexual activity and energy, supports the hormonal system and is a source of phytoestrogen. Damiana leaves have been used as an aphrodisiac for centuries and are recommended to women suffering from premenstrual syndrome. Research has confirmed that including damiana leaves in everyday diet increases libido, stabilises hormone levels in women, supports fertility treatments, has a calming and relaxing effect and when the leaves are used regularly, they contribute to better blood circulation in reproductive organs. They were known to the Aztecs and the Mayans, who used them to increase sex drive and strengthen pleasure, improve the mood and restore homeostasis. Saffron helps maintain emotional balance. It increases the concentration of neurotrasmitters: serotonine and dopamine in the central nervous system. Dopamine is called the "happy hormone" and it is naturally produced by the human body. Piperine is an alkaloid found in pepper, which gives it a pungent flavour and a characteristic aroma. It is best-known as a remedy for weight loss. It has an anti-cancer, anti-bacterial and cleansing effect and stimulates the body to remove metabolic waste products faster. Zinc is an indispensable mineral involved in the regulation of numerous enzymes conditioning the proper functioning of the body. It has a positive effect on the immune system and supports the reduction of free radicals. Zinc also maintains optimal blood testosterone levels, healthy hair, skin and nails and a good mood.
Active ingredients
Active ingredients
Daily intake
(1 capsule)
Fenugreek seeds extract (Trigonella foenum-graecum) [50% saponin] – Libifem®

300.00 mg

Ashwagandha root extract (Withania somnifera) [7% withanolides]

125.00 mg

Maca root extract (Lepidium meyenii)

40.00 mg

Damiana leaves extract (Turnera diffusa)

40.00 mg

Saffron stigma extract (Crocus sativus) [0.4% crocin, 0.4% safranal] – Saffr'Activ®

30.00 mg

Black pepper fruit extract (Piper nigrum L.) [95% piperine] – Bioperine®

5.00 mg

Zinc (zinc citrate)

10.00 mg
* 100% RI – Reference Intake
Libifem® is a registered trade mark of Gencor Pacific
Bioperine® is a registered trade mark of Sabinsa Corporation
Saffr'Activ® is a registered trade mark of Quimica Massó
Information
Recommended intake
1 capsule a day after a meal
Directions for use
Wash down with an adequate amount of water
Warning
Do not use if the patient is allergic to any ingredient of the product, during pregnancy and breastfeeding. Do not exceed the recommended daily dose. Dietary supplements should not be used as a replacement to a balanced and diverse diet. It is recommended to maintain a balanced diet and a healthy lifestyle.
Best before, batch number
Information on the packaging
Storage
Store in a dry and cool place out of the reach of children. Keep out of direct sunlight.
Manufactured in the European Union

Only logged in customers who have purchased this product may leave a review.